Crispin and Rispin - Royal Blood and Ancient Connections
---
The earliest records that I have managed to find for 'Rispin' and 'Raspin' are for individuals living in Cottingham, East Yorkshire in the 12th and 13th centuries.

I can find no records for these names before these dates, but stretching back into the mists of time there are records for the name 'Crispin'.

There does not appear to be any evidence that the name 'Crispin' changed to become 'Rispin', but it does seem quite plausible and would explain why one name seemed to spring up as the other became less common.

In 1066 he Norman Lord Milo Crispin is mentioned in the Doomsday Book as lord of the manor of 'Wodeton' (now Wootton Basset).

Lord Gilbert Crispin born before 1030, at Tilley died after 1066, child of Haloise (Guynes) and Crispin (Crispinus), was a descendant of: The Strong Robert, Wihtlaeg, and King of Kent Earconbert.

Lord William Malet/Mercia born 1041 in France and died between 1071- 1072 defending York Castle (England). He married Baroness Elise Hesila Crispin, Lady Malet, Daughter of Lord Crispin and Gunnore D'Aunou. Lord William Malet was a descendant of Leofwine Hwiccas Ealdorman Mercia, Earl of Mercia.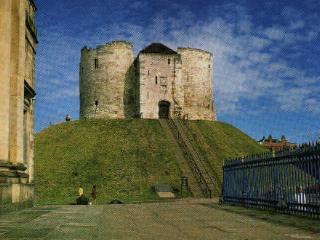 Clifford's Tower, York. The only remnant of York Castle.
---
Three Crispins are recorded as companions of William the Conqueror when he invaded England in 1066:
William, Gilbert, and Milo Crispin.

The Anglo Saxon Chronical mentions:
AD 1106
(King Henry) beset a castle of the Earl of Mortaine, called Tenerchebrai (Tinchebray in North France).....Robert of Belesme was there put to flight, and William Crispin was taken, and many others forthwith.
AD 1112
All this year the King Henry remained in Normandy on account of the broils that he had with France, and with the Earl of Anjou, who held Maine against him. And whilst he was there, he deprived of their lands the Earl of Evreux, and William Crispin and drove them out of Normandy.

Thanks to Edward Hall of Rossendale, Lancashire, UK.
(His genealogical pages are found at: Edann Web Site )

He has helped by providing the following information:

Gislebert Crispin, Count of Brien died c.1040. His sons accompanied William the Conqueror in 1066 and received lands in Kent.
Amongst his ancestors are:
Godfrey de Eu
Richard I the fearless, Count of Normandy 933 - 996
Guillaume the Longsword Duke of Normandy 900 - 942
Robert I (Rollo) the Granger Duke of Normandy 860 - 932
Rogenwald the Mighty earl of More d. 890
Eystein Glumra with further links back to Charlemagne King of France & Roman Emperor 742 - 814.

'Crispin' the patron Saint of shoemakers from Soissons in the North of France was martyred 25th October 287.


---

CLICK HERE TO GO TO RISPIN'S LINKS PAGE
Please visit the other Rispin's Sites.
Page created by: charlie@rispin.co.uk
Changes last made on: Mon 3 Jan 2000